response.text()) .then(html => {dynamicContent = true;$refs.modalDynamicContent.innerHTML = html;scripts = $refs.modalDynamicContent.querySelectorAll('script');if (scripts !== null && scripts.length > 0) {loadScript = index => { if (index < scripts.length) {newScript = document.createElement('script');if (scripts[index].innerText) { inlineScript = document.createTextNode(scripts[index].innerText); newScript.appendChild(inlineScript); } else { newScript.src = scripts[index].src; } scripts[index].parentNode.removeChild(scripts[index]); newScript.addEventListener('load', event => loadScript(index + 1)); newScript.addEventListener('error', event => loadScript(index + 1)); $refs.modalDynamicContent.appendChild(newScript); } };loadScript(0);}});}}" class="fixed top-0 left-0 w-screen h-screen z-lightbox flex justify-center items-center transition bg-gray-500 bg-opacity-90">
response.text()) .then(html => {dynamicContent = true;$refs.modalDynamicContent.innerHTML = html;scripts = $refs.modalDynamicContent.querySelectorAll('script');if (scripts !== null && scripts.length > 0) {loadScript = index => { if (index < scripts.length) {newScript = document.createElement('script');if (scripts[index].innerText) { inlineScript = document.createTextNode(scripts[index].innerText); newScript.appendChild(inlineScript); } else { newScript.src = scripts[index].src; } scripts[index].parentNode.removeChild(scripts[index]); newScript.addEventListener('load', event => loadScript(index + 1)); newScript.addEventListener('error', event => loadScript(index + 1)); $refs.modalDynamicContent.appendChild(newScript); } };loadScript(0);}});}}" class="fixed top-0 left-0 w-screen h-screen z-lightbox flex justify-center items-center transition bg-gray-500 bg-opacity-90">
response.text()) .then(html => {dynamicContent = true;$refs.modalDynamicContent.innerHTML = html;scripts = $refs.modalDynamicContent.querySelectorAll('script');if (scripts !== null && scripts.length > 0) {loadScript = index => { if (index < scripts.length) {newScript = document.createElement('script');if (scripts[index].innerText) { inlineScript = document.createTextNode(scripts[index].innerText); newScript.appendChild(inlineScript); } else { newScript.src = scripts[index].src; } scripts[index].parentNode.removeChild(scripts[index]); newScript.addEventListener('load', event => loadScript(index + 1)); newScript.addEventListener('error', event => loadScript(index + 1)); $refs.modalDynamicContent.appendChild(newScript); } };loadScript(0);}});}}" class="fixed top-0 left-0 w-screen h-screen z-lightbox flex justify-center items-center transition bg-gray-500 bg-opacity-90">
Free Samples 2023
Please follow the links provided on this page to download your free samples.
Looking to Place an Order?
The quickest and easiest way to purchase a subscription is through this website. Simply choose the subscription plan you wish to subscribe to, click "Subscribe" and follow the on-screen instructions.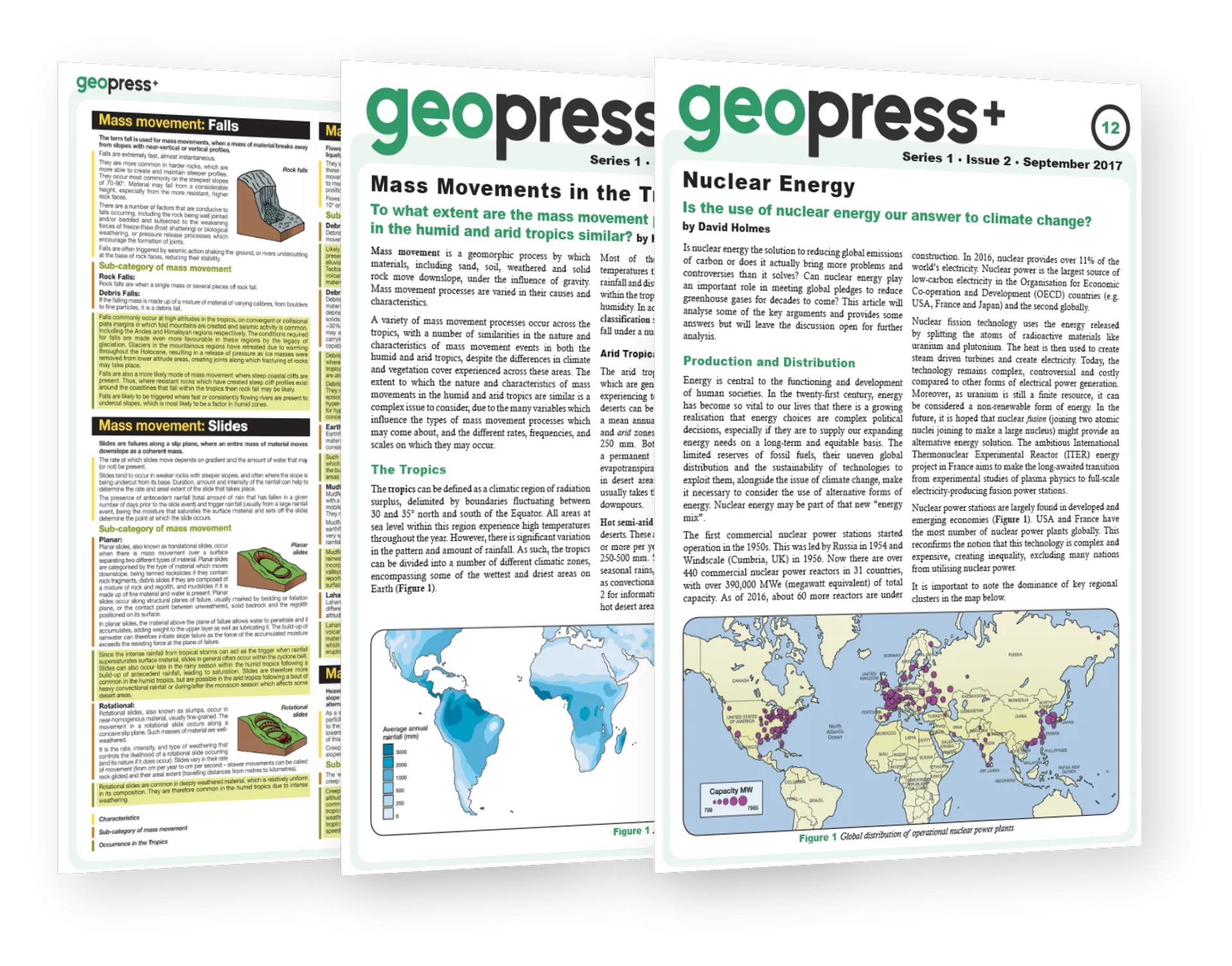 Paul Douglas, Head of Geography
Crompton House C of E School
'Geo Factsheets fill the gap between the textbook and up to date geographical information or case study. Students increasingly need to go beyond the textbooks in order to achieve the top grades, this resource goes a long way in closing that gap.'
Textbooks all too often provide superficial coverage of certain topics, or are out of date almost as soon as they are published. With Biology Factsheets, I have access to comprehensive, up-to-date material that I can share with my students to support and enhance their learning. A great resource for students and teachers alike.
Aaron Bridges
Head of Biology, Eton College
Excellent, user-friendly resources. Informative and linked to specific exam board specifications. The tasks are relevant and accessible for a range of abilities of students. Resources are a good source of material for wider reading and helping students understand particular concepts in the theoretical framework. Highly recommend.
Cherie Sykes, Google Review
Media Studies Subscriber, The Angmering School
Geo Factsheets provide students with fresh and up-to-date case study material. It allows students to become insightful geographers and thus demonstrate this in their extended answers and essay writing.
Chris Critchlow
Head of Humanities, Derby Grammar School
Excellent resources to extend student learning and understanding of exam specification topics at GCSE and A Level Geography. Also useful for wider reading beyond the test, great to get students thinking holistically using real world examples.
Rhys Williams, Google Review
Geography Subscriber, Cranleigh School
Excellent resources for A Level Geography. They provide extra information from the text book that serves to motivate and engage students to become geographers. Presented using a range of images, texts, and data in a very engaging manner including further research and exercises which are invaluable.
Richard Hall
Head of Geography, Weston College
Great resources, would recommend for students studying Biology and wanting to learn more and go in depth beyond the specification.
Mr Smith, Google Review
Biology Subscriber, Bishop's Stortford High School
GeoFactsheets and the associated Curriculum Press resources have consistently been in the top few of my favourite and most trusted and most reliable resources throughout my 25 year career teaching Geography and leading Sixth Forms. They are always detailed, informative, clear, accessible and focused on the key details that stimulate the interest of students and teachers alike, whilst always focusing on what students need to be able to answer exam questions. 10/10 always. Well worth the subscription each year and save lots of teacher time. Keep up the excellent work.
JLP, Trustpilot Review
Geography Subscriber
These resources support all students by building up each topic from first principles and they provide the necessary breadth and depth that is needed to prepare them for the novel contexts faced in today's exam questions. Foundation and extension all in one!
Phil Armstrong
Head of Biology, Birkenhead School
I would thoroughly recommend Curriculum Press resources for use at A-level in Biology and now with the more rigorous 9-1 Biology GCSE courses. They are well organised, and enable pupils to quickly grasp concepts, and then extend their understanding using the questions at the end.
Mrs L White
St. Ambrose College
Geo Factsheets represent a detailed, comprehensive and contemporary reference library that provide stretch and challenge to students of a range of abilities.
Rich Papper
Head of Geography & Humanities, Chosen Hill School
The materials provided by Curriculum Press are ideal in terms of building the foundations for the core aspects of Biology but also in enabling students to access and engage purposefully with stimulating, enrichment material. The resources can be put to use efficiently and with clear links to specifications and examination style questions. Thoroughly recommended for students and teachers.
John Blair
Head of Biology, The Manchester Grammar School
Geo Factsheets fill the gap between the textbook and up to date geographical information or case study. Students increasingly need to go beyond the textbooks in order to achieve the top grades, this resource goes a long way in closing that gap.
Paul Douglas
Head of Geography, Crompton House C of E School
We have happily used Media Studies resources for a number of years now. They have consistently provided a wide range of rock-solid theory, fully relevant to core key subject and unit areas, whilst linking to contemporary industry examples for context. They are constructed in such a way that allows an easily digestible guide, whilst still allowing enough depth for students to access the core learning requirements at this level. Highly recommended.
Ross Beamish
Head of Media and Film Studies, Wycliffe College
Great value for money for our pupils. Extensive set of in-depth Factsheets suited for our A-Level pupils. Has been excellent for extending the learning of our more advanced pupils in particular.
Deven Jones, Trustpilot Review
Chemistry Subscriber, Tunbridge Wells Girls' Grammar School
Our students like these resources as they complement their textbooks offering support and extension for the vast majority of topics in the current specifications. Clear and simple explanations with good diagrams and extension material. New Factsheets regularly include new topics and updates.
Maria Schram
Faculty Leader Science and Technology, British School of Brussels, Belgium
Geography Factsheets are a fantastic resource. They are very detailed in nature and provide excellent information for pupils. The Factsheets are contemporary and this means that pupils can stay up to date with new ideas and themes. Often, the Factsheets also include exam style questions on the topics presented and this just adds to their value in the classroom.
Tom Howell
Head of Geography, St John's School, Leatherhead
Find exactly what you're looking for.
Newsletter
Keep up to date with all the latest news, resources & updates from Curriculum Press