A chatbot is really programmed to synthesise and summarise information. While it may appear "clever", the bot is not a critical thinker. Nonetheless, AI tools like ChatGPT have potential to become an important tool for writers who want to hone their critical thinking skills along with their communication skills.
A trawl of some blogs and forums where researchers are engaging with ChatGPT reveals the following use-cases:
"I use it to summarise articles so I can map out more efficiently what's worth reading before I deep-dive into articles."
"Demystify complex text. Sometimes, there may be way too many new ideas and subjects introduced. Throw it all as a prompt and see what comes out."
"As a free tool, it seems good at shortening, lengthening, rephrasing, changing the tone."
"Use it as a guide or hint to subject matter information. Pretty much a Google 2.0."
"I fed ChatGPT some prompts and then asked it to generate an outline of the main chapter of my dissertation (already completed long ago)."

Looking for other opportunities and ways of using AI from blogs and forums, and making a shared class/group list of potential instructions, may be of benefit to you.
In the case of summarisation, it is advisable that you use the AI only for basic summarisation of text or a topic. Since the Chatbot is usually constrained by the word limit provided, it can miss out important points in a discussion, since it has no way to really summarise importance. This is illustrated by reference to the recent Turkey/Syria earthquake.
The following prompt was used:
List 5 reasons, in order of importance, as to why the 2023 Turkey earthquake killed so many people?
ChatGPT was unable to answer since it suggested the event was in the future! This is an edited response from Google Bard:
The earthquake was of a very high magnitude.
The earthquake struck a densely populated area.
The earthquake occurred in a region that is prone to earthquakes.
The earthquake was followed by aftershocks.
The earthquake occurred during a time of political and economic instability with poor building codes.
The answers are certainly reasonable, but a geographer would likely put them in a different order, starting with reason 5. Reason 3 seems somewhat irrelevant. The AI typically gives a generic answer, and in this case it has written about why big earthquakes often kill lots of people. This is one example of how the output looks convincing, but it is also possible to provide some deeper and more challenging instructions, e.g. "act as a statistician".
Using ChatGPT, the instruction could be written as follows:
I want to act as a statistician. I will provide you with details related to statistics. You should have knowledge of statistics terminology, statistical distributions, confidence interval, probability, hypothesis testing, and statistical charts. My first request is "I need help calculating how many people in Manchester regularly visit green spaces".
The response provided is shown below: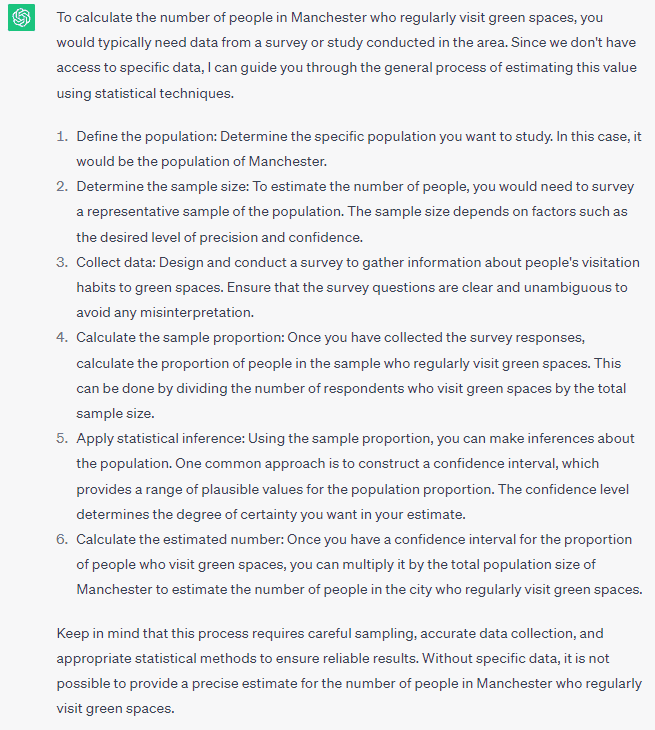 Try to test this statistical function with some of your own suggestions.
AI can also summarise lengthy information from the internet that is in a published form. For example, the following prompt could be used in Microsoft Bing with the "chat function" (it's actually running ChatGPT):
TLDR: [followed by the link to your article or research paper]