Recent research published in Nature finds that both the frequency and cumulative intensity of heatwaves show a higher rate of increase in Europe compared to the rest of the mid-latitudes.
In particular, heatwave days show a mean increase over Europe of +0.61 days/decade, constituting a 3 times faster rate for Europe.
This accelerated increase for Europe is even more pronounced when looking at heatwave cumulative intensity, which shows a 4 times larger trend compared to the rest of the midlatitudes.
Accelerated high-latitude land warming during the summer, can be attributed to anthropogenic climate change.
So, the question becomes, what is the cause, and is this something that is here to stay?
The standard response is that we have a blocking anticyclone sitting over North-West Europe, creating a "heat dome", and this is the cause. However, that begs the question of why the anticyclone is there in the first place?
The research published in "Nature" has come up with the answer. Essentially it finds that the upward trend in the persistence of double jet events explains almost all of the accelerated heatwave trend in western Europe.
The Polar jet stream splits into two.
The upper atmosphere winds trapped between the two streams are relatively weak and show a tendency to subside creating the blocking anticyclone (their favoured cause).
OR
The development of blocking anticyclones causes the Polar Jet to split.
"Either way, the existence of a double jet in the troposphere is characterised by a very confined subtropical jet that can affect Rossby waves in the mid-latitudes favouring the stagnation (sticking in one place) of ridges and troughs along the Rossby waves and thus keeping the anticyclone stuck in one place."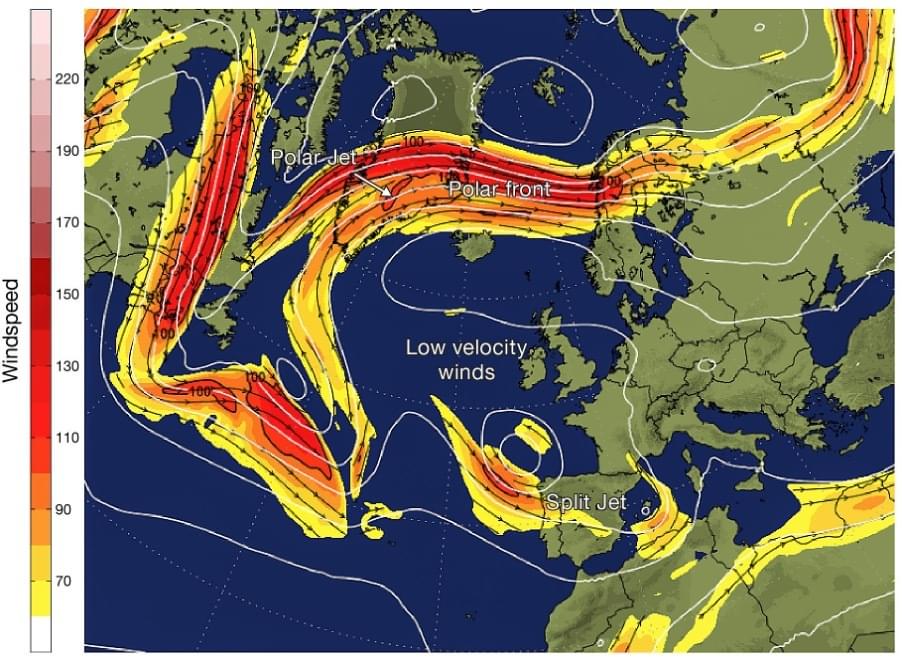 This map represents the pattern of wind flow high up in the atmosphere. The white lines are isobars at the 500mb level. Notice the clustering of the isobars along the polar front and how that affects upper atmosphere wind speeds. The Jet stream is indicated by the darker colouring. The split in the jet stream can be clearly seen with two flows:
A strong jet over the North Atlantic, Northern Scandinavia and Eurasia.
A secondary jet stretching down through the Iberian Peninsula and North Africa.
Between the two jets and sitting almost directly above the British Isles, there are almost no isobars at the 500mb level. This is associated with stagnant upper atmosphere winds, subsiding air, and the development of anticyclonic conditions at the surface.